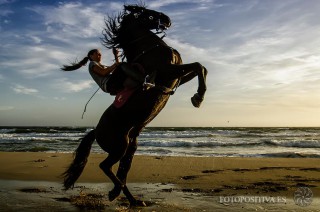 Or de na Font MM was born in 2001, at the Miquel Morlà Marquès stud farm. It was owned by Pedro Barber Pelegrí in 2014. Its current owner was looking for a good natured animal with quality to be ridden by his 12 years old daughter, in those days. He found Or de na Font MM his perfect ally: a self-assured animal, good-natured, hard-working and strong-willed. The connection and understanding between horse and rider was quick and total, obtaining good results in Menorcan Dressage competitions. It was also an ideal specimen to participate in the local fiestas and it has been ridden by all the members of the family.
Or de na Font MM has obtained the genetic category of Elite Breeding Stock within the official Horse Breeding Program in 2021, after getting the categories of Enhancer Breeding Stock for Menorcan Dressage and Functional Conformation and Basic Movements. It is important to highlight that three of his sons have obtained the genetic category of Young Recommended Breeding Stock for Classical Dressage (1) and Menorcan Dressage (2), so far.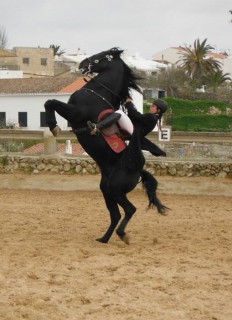 It had outstanding results at the Morphological Contest of the Breed, getting the award of Runner-up of the Breed in 2006; and its sons have stood out at the Ranking of the Best Menorca Breed Horse due to their capacity for the Menorcan Dressage discipline.
Its owner confirms this stallion has a great willpower, it is still working with the same enthusiasm over time all the way to the present. It has been able to transmit this trait to its descendants. Although this stallion is not used much by the breeders of the island, because its use in sport has limited its reproductive use, it has left quality offspring that have stood out due to its functional performance in sport competitions held in Menorca.