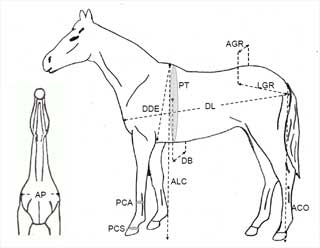 Over the last few years, mainly since the Breeding Program regulations passed, the Purebred Menorca Horse has been target of many investigations in different fields which are interesting for breeders and owners.
The outstanding investigations have been the result of an Official Investigation Project, financed by The National Institute for Agricultural and Food Research and Technology (INIA). It is titled: "Sustainable Conservation and Management of the Equine Minorcan Breed through the Genetic and Morphological Characterization: Strategies for the Genetic Diversity Maintenance (RZ2008-00011)". The project has been directed by the Dr. Mercedes Valera, from the University of  Seville.
In this section, it is possible to look up the presentations of the results obtained in this investigation project. Those were explained to the owners of the Purebred Menorca Horse in a specific meeting celebrated in September 2011. Moreover, there is a summary of the most relevant publications that have been carried out about the Purebred Menorca Horse from scientific point of view at a national and international level, during the last few years.