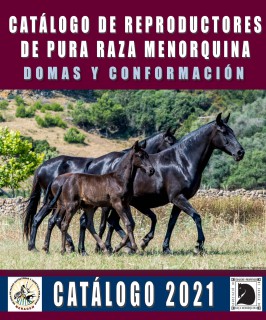 The Association of Breeders and Owners of the Menorca Purebred Horse spreads the Breeding Stock Catalog with the genetic category of the breed of 2021, within the Breeding Program and the Breeding Program Dissemination. The catalog includes all the selection lines of the official Breeding Program for this breed: Classic Dressage, Menorcan Dressage and Functional Conformation and Basic Movements.
All the Breeding Stock Catalogs edited by the Breed, included the Catalog of 2021, are able in the official web page of the Association, at the section "The Horse", sub-section "Enhancer Breeding Stock": http://www.caballomenorquin.com/the-horse/breeding-program/
Besides, breeders can use the tool for inbreeding estimation available in the official website of the Studbook: http://men-incecca.tragsatec.es/men-incecca/consanguinidad/calculoConsanguinidad.xhtml, in which they only have to select the stallion (padre) and the mare (madre) to obtain the estimated inbreeding value for this mating.